Hot air balloon flights during COVID-19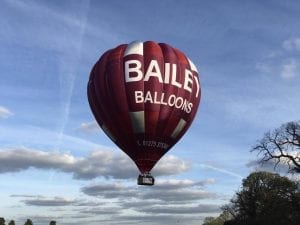 During this period of national lockdown, we have taken the difficult but necessary decision to suspend all Bailey Balloon flights until it is safe to take to the skies again.
Information for passengers already holding bookings/vouchers
We are disappointed not to be able to take our current voucher-holders or booking-holders on their flights, but rest assured that any existing vouchers or bookings will be extended to accommodate the period during which we remain in shutdown. Your booking information can be amended using our online system. In the meantime, we remind our clients to stay home and to stay safe.
Information for prospective passengers
If you have always wanted to fly in a hot air balloon, or you have something to celebrate in the forthcoming year, now might be the time you decide to make a booking for when we are through these trying times. The validity of the voucher will start from when we resume flying so you will still have a year's validity. We also have the Buy Now Pay Later Option allowing you to pay only £40 per person and pay the rest by 1st July 2020.
How to book and use a flight a voucher
Vouchers for hot air balloon flights can be booked now and used at any time in the one year period from when we resume our flight schedule again.
To make things easier, we sell our vouchers online and enable bookings for flight dates to be made online. You can call us in the office on 01275 375300 and leave a message if we don't answer- we will get back to you very soon!
Once we open again, our calendar will show available dates up to 45 days in the future. Our flying season is April to October. We fly only during these months as this is when the weather conditions are more likely to be on our side. Even though we fly up to seven days a week, a decision about whether or not to fly on any specific day will be contingent on the meteorological conditions.
To help you plan for this, we invite you to also book a reserve date at the time you book your planned date. Please book your second date at least eight days after your preferred date.
Popular flight experiences
We think that you never need an excuse to jump aboard a hot air balloon and set off on adventure, but if you need an extra nudge, why not celebrate a special birthday aboard one of our trips. They are suitable for the whole family (aged eight years old and over). People have proposed aboard our flights and celebrated retirements or anniversaries while in the skies. We also offer group or corporate balloon experiences for groups of between 2 to 100 people.
This year, it was a shame that Mother's Day could only be celebrated at a distance, so in anticipation of next year, why not book one of our Mother Day Experiences, or for romantics, our Valentine's Experience?
Each of these trips takes our clients out over the superlative countryside of the South West of England, over some iconic landmarks and breathtaking landscapes. We finish each experience by cracking open the champagne on arrival on solid ground.
If you decide to book a voucher with us, we do remind you that you must keep an eye on its expiration date and that it is your responsibility to use it before it lapses. We look forward to welcoming clients old and new when we can finally, safely take to the skies again.