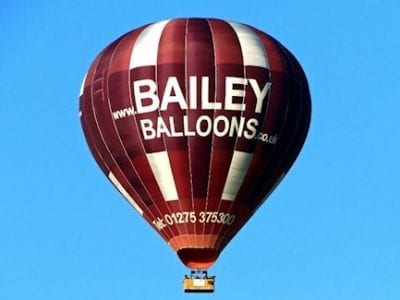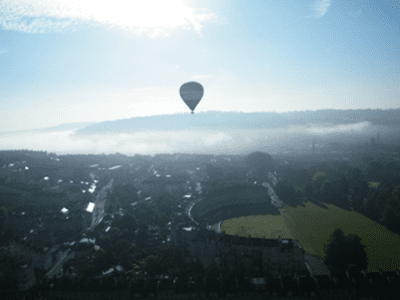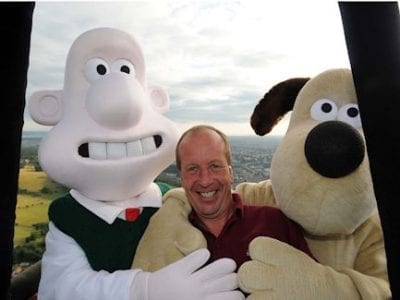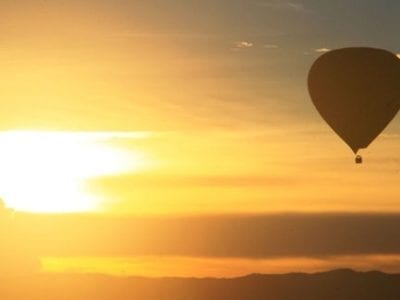 Experience the world from the sky
Feel the serenity and exhilaration of soaring through the air and enjoying the panoramic views of the landscape below.
Buy a Voucher
Customer Reviews
"Highly recommended, had an amazing flight with my partner in Bristol 3rd Sept in the morning, Everyone Is really friendly, got hands on with setting up and packing away. The flight was amazing, and the landing was really soft and comfortable. safety was spot on. A memory we will treasure forever. Cheers Bailey Balloons."
Colin B
"Just a note to thank you for your help during our trip last Wednesday.
I was quite apprehensive before arriving because of my immobility, but you put me at ease as soon as you arrived.
The trip was just as I'd imagined it would be. It was made all the more enjoyable by the kindness and help of yourself and your crew.
Thank you from myself and family for a most enjoyable flight."
Mrs Griffiths
"Seeing the photograph makes me grin from ear to ear. It was my wife's birthday and you struggle to find something that will make her day as its normally a case of been there, done that. A balloon trip was a perfect idea. Your crew were friendly and we all got involved in setting things up. Once the balloon was inflated we all piled in and we were off. It's impossible to describe the exhilaration of ascending into the sky in such a silent and majestic way (the odd blast from the burners being the only disruption). We flew over Bath and out into the countryside and lapped up every minute of it. It was such a thrill that it was almost a disappointment to be told we were descending – we would have been happy to stay up there all day! The pilot picked what looked like a narrow strip to land in but he was inch perfect. As we landed we even had a curious deer looking up at us. On getting home we announced to the kids what a wonderful experience we had had and of course they now want to go up in a balloon too. Is that a problem? Hell no! It means we get to go up in a balloon again and I for one cannot wait. Thanks for a wonderful experience."
Robin and Suzi, Good Life Incorporated
"My second flight with Bailey Balloons. It was another awesome and unforgettable experience. They were aware and extremely considerate to my travel circumstances and made everything much easier. Really lovely team of people who are very experienced, truly passionate for what they do and always very pleasant to deal with. Can't wait to fly with them again!"
Tom Swindells
"Hi all at Bailey Balloons
Just to thank Clive and the team for the amazing flight we had last night. It was the second time we have flown with you and somehow I think it won't be the last! The weather, atmosphere, view over Bristol, landing, champagne – all were perfect."
Margaret
"Dear Mr Bailey and Team, Thank you very much for our wonderful balloon ride last Sunday from Bristol. We both had a great time and we felt safe and confident due to your most professional piloting and support from your ground crew. The experience was well worth the long wait and all the cancellations due to the dreadful weather we have had this year. Even the landing in the muddy field was part of an exciting experience and I am only sorry that I was not more informed to be of greater assistance once we landed. Again, you and your crew were just great and hearing from you about going to the rescue of your fellow balloonists, only confirms that we made the correct choice with Baileys. Seriously, we had a good time and even though we missed our train we went to a hotel, had a good meal, a laugh and a nice sleep. Thank you for the memory stick, certificates and letter, we would fly with you again anytime and will not hesitate to recommend your services. Our sincere compliments to you and your whole team from the crew to the good service from the people in the office. Kind regards,"
Alan & Arti
"First of all I had a flight on my own from Bath and my daughter and wife saw me off. I was thrilled with the flight so much so that I bought another flight for myself and daughter to from Bristol. My daughter was also thrilled and we felt everything was so professional and we felt really well looked after. We really enjoyed our flight, well for me flights! We really recommend anyone to go with Bailey Balloons for a Champagne balloon flight."
David P
My partner and I very much enjoyed our flight over the beautiful Monmouthshire countryside. I especially enjoyed flying low over woodland and looking down on airbourne buzzards. The fact that we had the adventure of taking off and landing twice was also wonderful (no gate in the first field), as was being part of laying out the balloon before flight and helping to collect it in afterwards. Our pilot was exactly the right mix of dry humour and obvious ability with the balloon. The champagne was most welcome -a celebratory ending, watching the last of the sunset.
This flight was a gift from my sister, and I really persevered in the booking of it in order to satisfy her. I'm glad that I did. It wasn't the most obvious present for me – someone who experiences mild vertigo, hates to read small print, and to arrange trips!
We did nearly give up with the weather in June and July, with the re-arranged trips. However, it was reassuring that you do only fly when the conditions are right.
I'll certainly recommend your flights to others.
With best wishes
Tess
We'd like to say a big thank you to all at Bailey Balloons. After a few delays due to the British weather this summer we finally took to the sky on Saturday. The experience was fantastic! we'd like to say a particular thank you to the ground crew who worked hard, were humerous and helped make the trip. Special thanks to our Pilot, who professional and very welcoming of everyone flying.
Gary & Anne
Dear Clive I am just writing to thank you and your team for a fantastic flight in the balloon last night from Monmouth. As you know it was my mother's request for her 80th birthday and we all had a wonderful time. Thanks you for making it such a memorable experience, skimming the trees and seeing deer was wonderful, and of course we had the added bonus of a second flight!I hope we get to repeat the experience again soon.
Many thanks
Alison, Geoffrey and Jenny
I can't believe it had taken me until my dad was 70 for me to go up in a balloon! At 43 I have to say it was one of the most beautiful and amazing experiences. After the initial shock of being in the air in basically, an over sized basket, I soon got into the groove and was in heaven, well nearly! Being part of the breeze, the views over my home town, the joy for my parents and being in the safe hands of a great balloonist, made it a trip of a lifetime.
E Collins