Get Christmas in Bath off to a flying start with a balloon ride gift voucher
What better way to make this Christmas one to remember than by gifting your loved ones a voucher for a scenic hot air balloon flight over the city of Bath?
A city ripe for aerial exploration
The Roman city of Bath is particularly well-suited to exploration from the air, in part because of its instantly recognisable architecture and its famous golden limestone buildings. Bath has been a UNESCO World Heritage Site since 1987. Its iconic Royal Crescent was designed by the architect John Wood and comprises 30 townhouse facades arranged in a perfect crescent overlooking the verdant Royal Victoria Park. Connected by Brock Street to Wood's Circus, together they form the shape of a question mark – one of the more spectacular things about Bath that you can only appreciate from the skies.
Further afield, your aeronautical adventure will take you over the gothic spires of Bath Abbey. One of the largest examples of the perpendicular gothic architectural style, this Parish Church is noted for its unusual bell-ringing chamber. Maybe you will hear the peal of the bells as you pass by?
Pulteney Bridge is another unique and spectacular site to encounter as your explore the city from the skies. The bridge, built in 1774, is an example of Palladian architecture. Pulteney Bridge is special as it is one of the only bridges in the world to host shops and markets along both sides of the bridge, making it a thriving microcosm in its own right. Perched photogenically over a weir, it's a photo-opportunity not to be missed.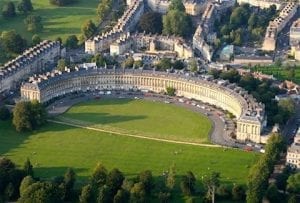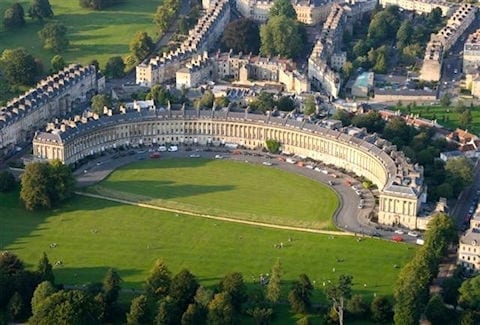 Wildlife and wilderness
Passing through Bath is the River Avon, which winds its way through the south of the Cotswolds and out into the River Severn. As your flight takes you beyond the city, explore picturesque villages including Lacock, Castle Coombe, and Bradford-upon-Avon. These quintessential examples of English villages are sure to delight you from your bird's eye vantage point.
On a clear day, look out for the standing stones at Avebury to the East of Bath, while to the south Cranbourne Chase – and expanse of wild, natural beauty – opens up before you.
Christmas presents all taken care of
Our Christmas vouchers promise the recipient a flight to remember over Bath and its surrounding countryside. Vouchers can be paid for in instalments – helping you to spread the cost beyond the Christmas period – and are valid for 12 months during the flying period (months April to October). Flight experiences take off from Royal Victoria Park and last for approximately four hours. Trips include a glass of champagne on landing and a personalised flight certificate.
If you are looking for the perfect gift for a curious aeronaut, or you just want to treat your friends or family to something a little different, a hot air ballooning voucher from Bailey Balloons might be just the thing. Offering flexibility and affordability, it makes for a perfect yet out of the ordinary Christmas present.