Black Friday Discount Code 2021
Our Bailey Balloons popular Black Friday discount offer is back for 2021.  On Friday 26th November 2021, you can use the code emailed out to you for a HUGE discount on our Gold 'Anytime' Champagne Balloon Flight Voucher- valid for the first 50 people to use it.  If you are looking for the perfect Christmas gift or fancy a treat for yourself, sign up below to receive the code!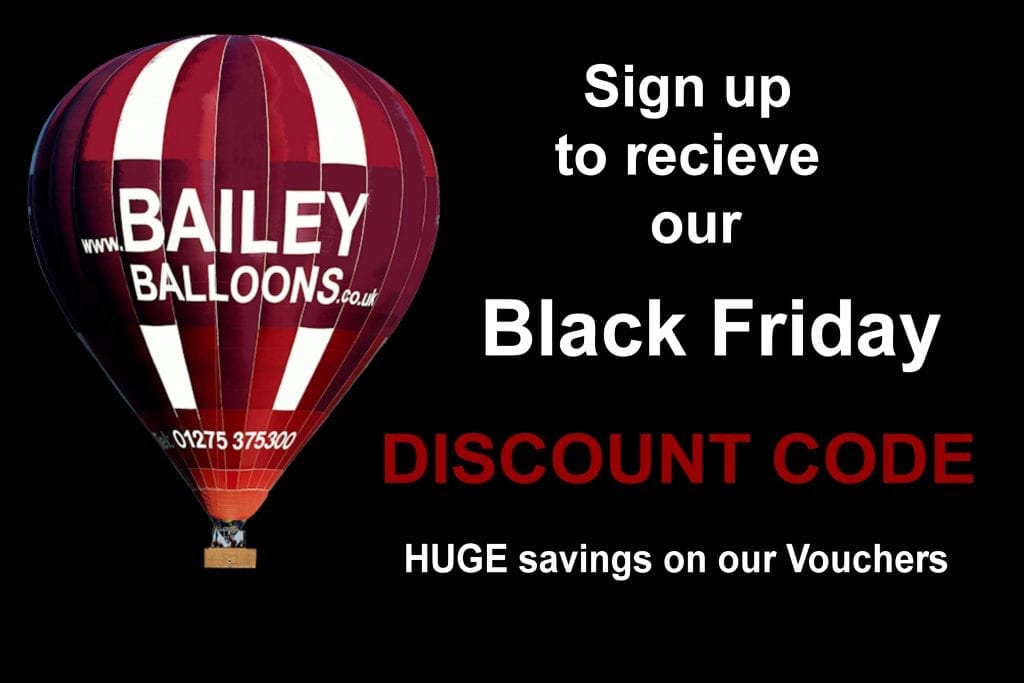 REGISTER NOW!
PLEASE NOTE THAT YOU NEED TO REGISTER FOR THIS DISCOUNT BY COMPLETING THE FORM BELOW BEFORE 5.00 PM THURSDAY 25th NOVEMBER 2021.
Take your friends and family up, up and away, or sweep someone special off their feet with a Champagne Hot Air Balloon Flight with Bailey Balloons – the perfect gift this Christmas and something to remember forever.
See the beautiful landscapes surrounding Bristol, Bath and South Wales before indulging in a celebratory glass of chilled Champagne! Our sister company Aerosaurus Balloons are also running this offer for launch sites in Taunton, Wincanton, Templecombe, East Stour, Exeter, Tiverton, & Launceston – view details here..
For one day only on Friday 26th November 2021 we will be giving away this exclusive discount to the first 50 customers to use our discount code for online orders.
All you need to do is enter your email address on the form below and we will send you the discount code to use on Black Friday!  Then, simply visit the Bailey Balloons shop and select a Gold Voucher to add to your shopping cart, enter your discount code and if you are one of the first 50 people to use it – your huge discount will be revealed and you can continue your purchase! 
Terms and conditions apply, vouchers are valid for 12 months from the date of purchase and are non-refundable.  The flight must be taken within the 2022 flying season and is non-refundable, please read our terms and conditions and FAQs for more information.
Please note that Vouchers are emailed only or cost £5.00 to post a voucher.