Chance to Fly Around the world with Bailey Balloons & Yuup!
Bailey Balloons and Yuup announce around the world balloon adventure!
Bristol-based Bailey Balloons and experiences company Yuup today announced plans to circumnavigate the world in a balloon – the Yuup Flyer – promoting Bristol on the world stage and providing a unique opportunity for two Bristol residents to join the crew for a once in a lifetime experience
Chief pilot will be Jo Bailey, MD and co-founder of Bailey Balloons. Jo, a highly experienced balloonist having flown in different countries around the world including Bulgaria, Poland, Qatar, Switzerland, France, and Italy, admits this challenge will be on a whole new level.
"This is a project I've always wanted to do and when Dominic suggested a collaboration with Yuup it felt the time was right, but we're not underestimating the size of the challenge. The plan is to travel some 40,000 kilometres in a non-stop, non-fuelled flight. We expect to reach altitudes of more than 10,000 metres and speeds of over 120 knots. All being well we'll complete a circumnavigation of the globe in about 2-weeks."
Jo is no stranger to ballooning adventures – husband Clive has been the logistics and flight director for David Hempleman-Adams's many record-breaking balloon flights including a flight to the North Pole in 2000.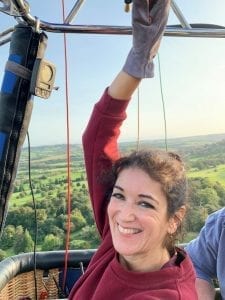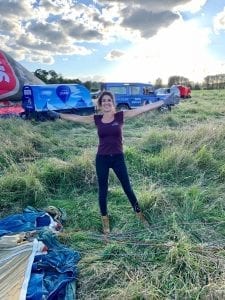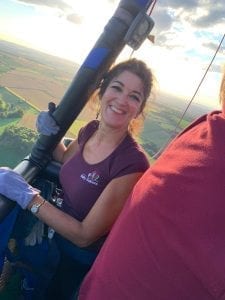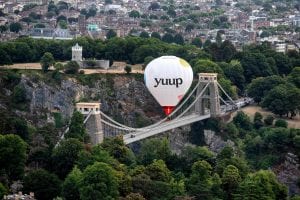 Yuup, main sponsor for the project, will also provide logistical support. Dominic Mills, Co-founder and CEO of Yuup said:
"I'm super excited that Yuup is collaborating with Jo and her team on this incredible adventure. Bristol is famous for ballooning and it seems a fitting way to promote the creativity, technological capabilities and spirit of adventure of our great city. I'm especially pleased we will be able to give two members of the public who are residents of Bristol the opportunity to join Jo as crew. It really is a once in a lifetime experience."
Breitling Orbiter 3, the first balloon to successfully circumnavigate the globe in 1999, was built in Bristol by Cameron Balloons. The Yuup Flyer team hope to build on this Bristol ballooning history when Jo Bailey and the selected Bristol crew members become the first Bristolians to complete the around the world challenge.
Applications to join The Yuup Flyer crew open today at yuup.co/flyer ahead of a selection process over the next few months. No previous ballooning experience is required, but the two successful applicants must be available for a rigorous training programme throughout the summer, with final launch preparations planned for the autumn.
Jo commented "We think our best weather window will be in September and the plan is an early morning launch from Ashton Court. We hope by then restrictions on mass gathering will be behind us and the city will turn out to see us off on our adventure."
Bailey Balloons are currently overseeing the manufacture of The Yuup Flyer that will take the crew around the world. The balloon design combines an inner helium cell and outer hot-air envelope attached to a Kevlar and carbon-fibre high-altitude pressurised gondola. The balloon will stand some 60 metres tall once inflated.
Dominic added "In addition to our search for two intrepid crew members, we're keen to involve as many Bristol people and businesses as possible in this incredible project and would love to hear creative ideas of how we can use it as a platform to celebrate Bristol and the diverse communities that make up our city".
Those that get involved in the project will be recognised by having their name printed on the balloon envelope.
You can follow progress of the The Yuup Flyer project on social at:https://www.instagram.com/bailey_balloons/ and https://twitter.com/baileyballoons
https://www.instagram.com/say.yuup/ and https://twitter.com/say_yuup
About Bailey Balloons
Located in Bristol, Bailey Balloons is a highly experienced balloon operator with credits ranging from Bond films to flying with Sir David Attenborough at high altitude over the Swiss Alps to film his introduction for the BBC series, Planet Earth II. Co-founded by husband-and-wife team Clive and Jo Bailey in 1994, a wealth of experience, untouchable safety record and clear passion for ballooning has earned Bailey Balloons their fantastic reputation in the ballooning world.
About Yuup
Yuup is a Bristol based marketplace for experiences – helping experience hosts create and customers discover fun, exciting and authentic experiences, from baking to beekeeping, clay modelling to dancing, foraging to fox feeding, pottery to printmaking, sheep herding to upcycling and now around the world balloon flying!